SUMMER HOURS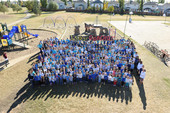 J.J. Nearing will be closed from June 26th to August 18th. The school will re-open on August 19th. Office hours are 8:00 a.m.- 4:00 p.m. Monday to Friday. Registration is being accepted throughout the summer by phoning our District Office at 780-459-7711.
Please click the link "2015-16 Registration" on the left menu bar for supply lists, registration forms and transportation information.
BACK TO SCHOOL PICNIC
Please join us on Thursday, August 27th from 5:00 p.m. to 7:30 p.m. for our Back to School Picnic and Open House evening. This will give you and your child a chance to meet your teacher and greet old and new friends. There will be a hot dog meal for purchase that evening at $4.00 each.
Have a Blessed Summer!
Celebrating our caring students!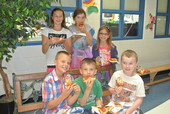 Today, we took some time out to celebrate our wonderful student volunteers by giving them a pizza lunch! We are so proud to say we served pizza to over 250 students that have given of their time so generously throughout the year. These students have helped to create a school environment that is filled with laughter, caring and sharing. Thank you to all our student volunteers!!
What a Day!
We were thrilled to host International Award Winning Hoop Dancer Dallas Arcand on Thursday, June 11th.


To report a student absence click here. Include your child's full name, teacher's name and the reason for absence.
SCHOOL BLOG! (click on photos to see more pics!)
2015